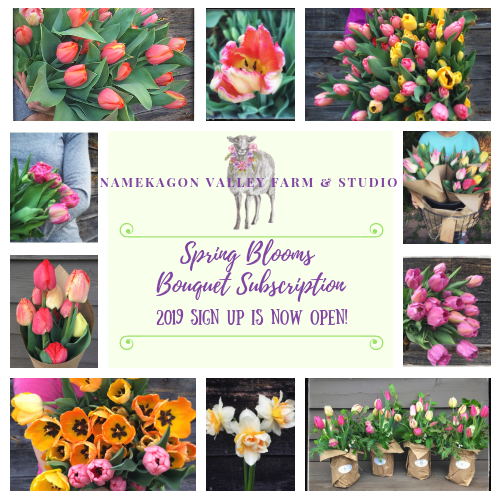 2019 Spring Blooms Bouquet Share: 4 weeks​
After a winter of grey and white, let's celebrate the spring season with a flush of color!  By April, we'll all be ready to see the first blooms of the season unfurled, with the exact timing dependent on Mother Nature.  With over 3,000 new spring bulbs planted, we are planning to have a joyful and colorful spring!
To share the fresh, bright blooms of spring, we are offering a limited 4 week spring bouquet share.  You will receive a fresh bouquet each week of our first flowers of the year.  Anticipate rich shades of pink, orange, peach, red, yellow, and plum tulips – large, fragrant single and fancy double varieties, paired with rare, ruffled double daffodils along with foliage to showcase the blooms.
Update: First week will be May 2, 2019!